The Hearth at Drexel's Great Composer Series Provides Joy, Friendship, and Learning
March 22, 2022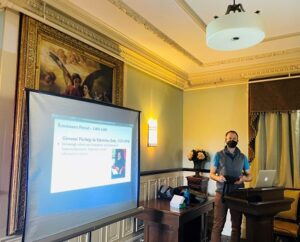 Zach Zaitlin, a music educator, composer, and performer, created and presents the lecture series. Residents joyfully welcomed the return of this beloved educational lecture series through the history and evolution of classical music.
"Zach reached out to me about presenting the series," explains Jessica Buck, director of community life at The Hearth at Drexel. "We talked it up in the community. The residents sounded extremely interested. They're always eager to learn and, of course, music is something everyone can tune into."
The program was suspended in 2020 due to the pandemic. As Covid restrictions eased, and the residents received their vaccinations, Jessica felt that the time was perfect to resume the series.
"We have a whole new group of residents, and some who are musically inclined and have worked with different operas and theaters, so we really wanted to connect them with this. Residents who went to the lectures before loved Zach so much that they've returned to the program for the new series," Jessica says.
Chloe O., a resident, returned because she appreciates how Zach takes her from the beginning of the earliest musical period and comes full circle to present day music. Grace L., a new member of the course, has enjoyed her experience so far, especially the educational aspect, and she loves the instrumental music that plays during each course of the Great Composers series.
As each course takes residents through the people, places, and events that steered music evolution, the music also takes residents through their cherished memories of special people, places, and events in their lives. The music evokes their past and enriches their present.
"They love to share their own individual experience, and they get to socialize with one another and talk about the discussion and carry it beyond the one-hour session," Jessica shares. "Now, it's something they can talk about together and reflect back on."
At The Hearth at Drexel, the luxury of the past meets the care of the future!