Concert Series Honors The Late Philanthropist, Musical Educator, and Musician, Bea Rossman
February 21, 2023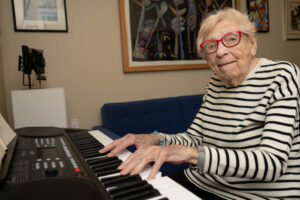 This past fall, The Hearth at Drexel in Bala Cynwyd, PA, lost an avid music lover, musician, educator, and cultural philanthropist, Bea Rossman, this fall. Before her passing, Bea initiated a series of classical music "mini-concerts" to introduce Philadelphia-based Astral Artists' outstanding talents to residents at The Hearth.
These performers are rare young musicians, among the finest of their generation, chosen to become part of Astral Artists through national competitions for their unmatched skill, imagination, and entrepreneurial drive. The trio of concerts at The Hearth one that took place in November, and two additional concerts scheduled for March and June of 2023.
Commemorating Bea
According to Jessica Buck, Director of Community Life, "The first concert took place just a week after Bea passed and featured gifted Harpist Rachel Lee O'Brien. She played pieces by Marcel Grandjany and George Frederic Handel. Hearth Residents are still talking about Rachel's exceptional performance."
She adds, "That concert was a way to commemorate Bea's dynamic life and her contributions to the cultural life of Philadelphia."
A Love and Legacy of Music
A musician and former music educator in the Philadelphia Public Schools for 23 years, Bea had long supported brilliant musicians in Philadelphia. She was the former Chairman of the Board of the Friends of the Curtis Institute of Music in Philadelphia.
In 2002, she endowed the Dr. Samuel R. and Beatrice S. Rossman Fellowship. In addition, she sponsored many ingenious students early in their careers, like the concert pianist Lang Lang when he attended Curtis.
Before moving to The Hearth, Bea attended classical concerts at The Church of the Holy Trinity just off Rittenhouse Square, performed by Astral Artists for years.
Bringing it to The Hearth
"I felt so thrilled listening to the exquisite performances of these young musicians that I wanted to bring their music to The Hearth for everyone here to enjoy as much as I have, so I introduced Jessica and Vera Wilson, the Founder of Astral Artists, whom I have known for 13 years, hoping to spark a collaboration," shared Bea earlier last fall, when she chatted about the upcoming concerts with fellow residents.
Jessica says, "Residents are already looking forward to the next concert in March and we're hoping that a flutist will be able to perform outdoors in June 2023, so that family members of Hearth residents may be able to attend."
Through these concerts, Bea's admiration for Astral Artists' extraordinary young musicians and her dedication to music education and cultural philanthropy will remain alive.
 You can support cultural programs like this concert series at The Hearth with your gift today.