A Special Person Provides Exceptional Care to Residents at The Hearth at Drexel
January 12, 2023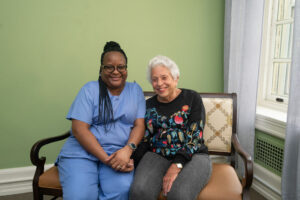 All of the caregivers at Liberty Lutheran's Assisted Living and Memory Care Community, The Hearth at Drexel, in Bala Cynwyd, PA, are incredibly compassionate and caring. Still, one outstanding Certified Nursing Aide (CNA) is known for her lovely disposition, upbeat demeanor, and compassionate attentiveness to the residents she serves.
This charming caregiver is Arnita A., whose professional development evolved over twenty years of service at another Liberty Lutheran community, Paul's Run, in Northeast Philadelphia. Along the way, Arnita furthered her education by earning her CNA certification.
When asked why she appreciates working at The Hearth, Arnita claims, "It brings me joy to work with these lovely residents, to help make their days more joyful and interesting. We start each day together when I visit them first thing in the morning to welcome them to the new day ahead," says Arnita.
She continues, "I visit all nine residents in the household that I serve individually, and then I help each one individually to get their breakfast. After that, I encourage them to visit with their neighbors, to have some social interaction. Then, I ensure that each person is showered, dressed, and properly ready to greet the day's activities, events and programs," Arnita adds.
Staying Busy at The Hearth
The Hearth has plenty of activities, events, and programs to keep residents busy. "Throughout the last two months, there have been many social occasions that team members and residents enjoyed together, such as a classical music concert performed by a Harpist, Rachel Lee O'Brien, from Astral Artists, in Philadelphia, PA; there have been many holiday-themed cocktail parties in the households. The residents also enjoyed decorating for the holidays and had fun trimming trees for Christmas and putting up menorahs to light during Hanukkah," says Arnita.
She elaborates, "Everyone here is curious to learn about others' lives, so people enjoy talking to one another about their families, and how they celebrate holidays with their loved ones, from the various foods they like to cook and bake to what they like to drink. I especially enjoy when they tell me stories about their children and grandkids' lives," claims Arnitha. "It makes me feel even closer to them."
"I value working with these residents"
Arnita adds, "That is what I value the most about working with these residents; the opportunity to learn about who they have been all their lives, where they have lived, what they did if they had a career or volunteer position, and to learn about where they traveled; all of that interesting history of their lives is fascinating. To know who they are, and to be able to be a small part of their daily lives now, is an honor and a privilege for me. I am grateful that I have the opportunity to contribute to making their daily lives more fulfilling."
Discover our historic charm with contemporary care and comfort!