Stories from The Hearth
Every Testimony From The Hearth Is Unique. How Will Yours Look?
Meet Chloe: A Resident at The Hearth with a phenomenal story!
We know that staying in touch with family is not always easy. Thanks to technology and our dedicated team, we help residents stay connected with loved ones despite the distance!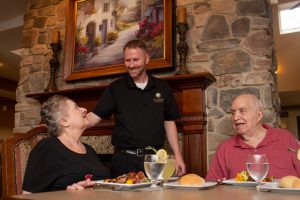 Arthur and Rachel P., Residents: We love the smaller neighborhood feel here at The Hearth. Even though we looked at three other places we knew that The Hearth would best fit our needs. The staff here is like a big family that cares about us.
Chris Morris, Director of Dining: Being a part of a smaller community allows me to be personally involved in our residents' lives. I can address concerns myself, as well as be a part of the daily interactions that build emotional value. The Hearth is a place where the staff are afforded the ability to be uniquely familiar with the people who live here and their families. Having worked in many environments throughout my career, I can say that The Hearth is the only place that truly feels like home.
Addie C., Resident: There are so many things to do and to enjoy here at The Hearth! The food, the apartment, the staff, everything here reminds me that I'm in a place that's the right fit. I appreciate that I get to showcase my artwork here at the fall gala. It's an honor to be one of the featured artists, and The Hearth has gone a long way to support my passions.
Jessica Buck, CTRS, Director of Community Life: Working with residents always makes me happy. They always keeps me on my toes, with every conversation bringing something new. I feel like The Hearth's individualized approach allows me the opportunity to get to know each resident, making this their home, and making me proud to work here. After working at The Hearth for nearly three years, I've found that there is always a way to bring joy and satisfaction to residents and their family members.
Are you ready to create your own story at The Hearth? Click here to schedule your complimentary tour today!